PLATINUM JUBILEE - 10.06.22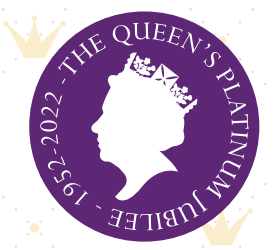 FRIDAY 10TH JUNE 2022
CHECK OUT THE VIDEO FOR THE OFFICIAL PLATINUM JUBILEE SONG
Rise up and serve song - https://youtu.be/fJkUGEZoO_w
FIND ONLINE RESOURCES ON THE OFFICIAL PLATINUM JUBILEE WEBSITE
The Queen's Platinum Jubilee 2022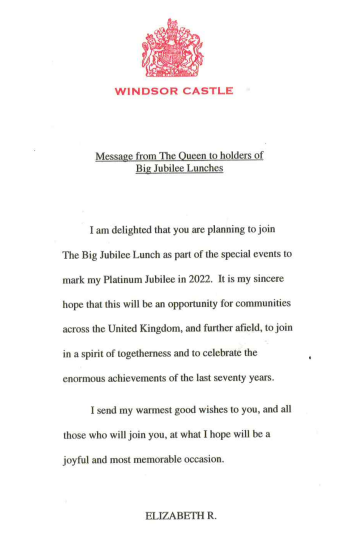 please place orders by 27th may - click on the menu below for the order form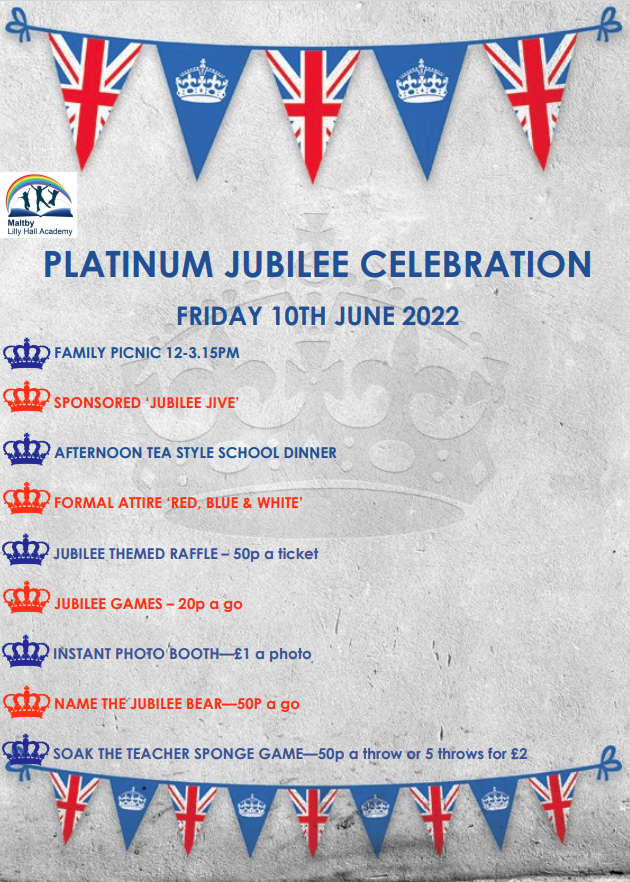 On Friday 10th June, 2022, Maltby Lilly Hall Academy will be holding a special celebration event for the children of Maltby Lilly Hall Academy to celebrate The Queen's Platinum Jubilee. On the day, we will ask you to collect your child from the regular end of school collection door at 12pm. From there you and your child will be able to enjoy the school picnic, take part in games and enjoy many jubilee activities. The day will go ahead until 3.15pm, at which point the school day will end and you may leave with your child. You may be unable to collect your child at 12pm, in which case your child will be escorted around the event by a member of staff. If you are only able to attend for part of the event, your child will then be returned to a member of staff for collection at 3.15pm.

Children who attend our school for half-days in Foundation Stage (morning children) will have a regular collection at the regular time, but are encouraged to take part in our celebration between 12pm and 3.15pm. If you wish to leave earlier this is only acceptable for the children who normally have half days.

Please complete the preference form



The Queens Platinum Jubilee Celebratory Street Party Menu - see menu attached.

Please pre-order your child's lunch no later than Wednesday 25th May 2022

PLEASE NOTE : Each pupil will received a lunch box which will contain the following;

Mini Sausage Roll or Cheese and Onion Roll
Either a Ham, Cheese or Jam Sandwich
Union Jack Cup Cake and a flavoured Juice Box

If your child is in Nursery, Y3, Y4, Y5 or Y6 - By booking a lunch you are agreeing to pay by ParentPay only - £2.25 for your child's lunch.

Please Note ; Reception, Year 1 and Year 2 children DO NOT NEED TO PAY as they receive Universal Free School Meals.

Jubilee Lunch Pre-Order Form

We hope you are able to join us on this special occasion to celebrate.